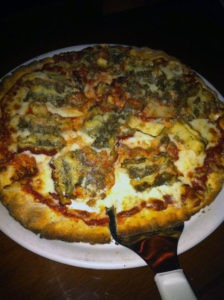 I've eaten at Balistreri's Bluemound Inn numerous times, but for some reason I never noticed the lasagna pizza on their menu until my most recent visit. In fact, on a couple occasions I've ordered both pizza and lasagna separately, not even knowing that the option to combine the two into one delicious meal was even available.
The lasagna pizza at Balistreri's features seasoned beef, mushrooms, lasagna noodles and four different cheeses. Before ordering I was a little worried that all the noodles and meat might make the pizza taste a little dry, but that wasn't the case at all. It actually tasted pretty much like you'd expect a cross between lasagna and pizza to taste. In other words, it was delicious!
I also had an order of the eggplant strips — served with spaghetti sauce for dipping — like I do almost every time I'm there, but completely devoured them before I realized that I hadn't taken a picture of them. Whoops!