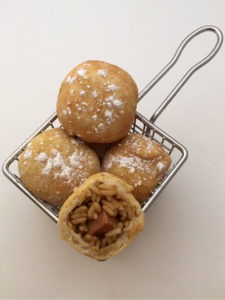 Alright, this blog post is LONG overdue. Back in October I made a bet with Jess from BurgerMary.com on the Packers / Saints football game. Since I'm from Wisconsin I'm obviously a huge Packers fan and Jess, even though she's from Australia and splits her time between there and Texas somehow ended up as a Saints fan. On the plus side, at least she doesn't root for the Cowboys….
The gist of the bet was that if the Packers won Jess would have to write some sort of Wisconsin-themed blog post and if the Saints won I'd write a New Orleans-themed post. Well… The Saints won 44-23….
I had such high hopes for the game. At the time the Packers were riding high on a four game winning streak and the Saints had only won two games total. The game even got off to a great start, with Aaron Rodgers throwing a 70 yard touchdown pass to Randall Cobb on the Packers first possession. In the end though the they just couldn't come up with a win. It's fine though, because they've only lost one game since, whereas the Saints are 2 – 4 in the same timespan.
Since there weren't any hard rules about what this blog post was supposed to include I easily could have just written something like "Alright Jess, the Saints won. Congrats!" Since the name of my blog is DudeFoods though I wanted to come up with some sort of crazy New Orleans-themed dish, and seeing as how there aren't many things that are much more New Orleans than jambalaya and beignets I decided to combine the two and make Jambalaya Stuffed Beignets!
I started off by following a recipe I found online to make some Andouille sausage jambalaya. Once it was done I spooned it into an ice cube tray and let it harden. A few hours later I popped out my jambalaya cubes and wrapped Cafe Du Monde beignet dough around each one before dropping them into my deep fryer.
Once my Jambalaya Stuffed Beignets floated up to the top of the 370° oil I removed them from the deep fryer and sprinkled powdered sugar on them. They were delicious! The spiciness of the jambalaya was the perfect contrast to the sweetness of the beignet dough.
So, although the Packers may not have won down in New Orleans on October 26th I think it's safe to say that since these Jambalaya Stuffed Beignets were a result of that game that in the end we all won. Mostly me though because I got to eat ten Jambalaya Stuffed Beignets….