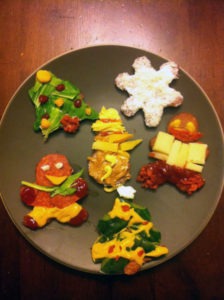 With how much food I eat you might be surprised to find out that I'm not really a huge fan of sweets. I did however want to bake some cookies for the holidays, so instead of the traditional chocolate chip or sugar cookies that everybody else usually does I decided to make some meat cookies instead. After flattening out a sheet of ground turkey I grabbed my cookie cutters, threw the cookies in the oven and then went to work decorating them.
The first cookie I decorated was a snowman that I completed by adding a Cheddar cheese hat and nose and Bacon Bits for buttons. On yeah, and a pepperoni scarf…
Once that cookie was done I put together a gingerbread man that had a pepperoni coat, mustard pants, ketchup shoes and gloves, mayonnaise eyes, a Cheddar cheese mouth and a lettuce scarf.
Cookie number three was a Christmas tree that had a Bacon Bit trunk and lettuce leaves (with mayonnaise to hold the lettuce on). The tree was then decorated with ketchup, cheese and mustard ornaments.
The fourth cookie was a snowflake that was covered with mayonnaise and Parmesan cheese, and the fifth was another gingerbread man who had ketchup pants, a Swiss cheese coat, bacon bit shoes, mustard eyes and a pepperoni smile.
Another snowman cookie was then decorated with a peanut butter and mayonnaise body, a Swiss cheese scarf, cheese whiz buttons and hat, Bacon Bit eyes and a cheddar cheese nose.
The final cookie was another Christmas tree that had cucumber branches, mustard garland, Bacon Bit ornaments and a mayonnaise angel on top.
If you look closely to the final picture you can notice one meat cookie missing. That's because the second I turned my back my dog Finn jumped up and grabbed one of the snowmen off the plate and ate it. Apparently these cookies weren't so bad after all. Then again, he'll eat anything…