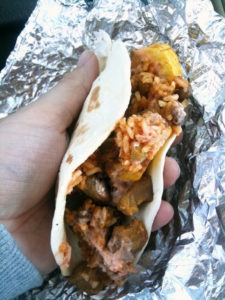 If there's one thing that can rival the gourmet burger craze that's been going on recently it's the food truck craze, and when Milwaukee's newest food truck was serving their very first lunch only a mile and a half from where I work I knew that I had to stop down and give them a try.
The Fast Foodie serves globacos, a phrase they coined which means "global tacos," and with everything from a Jamaican themed "Jamacian Me Crazy" taco to their German inspired "Fo Shizzle My Schnitzel" taco they certainly have a large portion of the globe covered.
I decided to try the "Big Sexy," which consisted of marinated and fried pork cubes, Puerto Rican rice, pigeon peas and fried plantains covered in their secret sauce. My taco globaco was delicious (especially the plantains) and I only wished I would have gotten there a little earlier so I had enough time to try something else off their menu as well. If this first day was any indication though I'm sure that Fast Foodie will be around for a while and I'll have plenty more opportunities to try their other globacos.