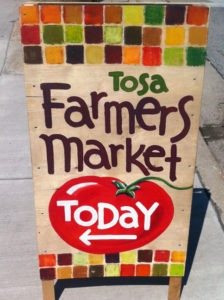 Most people simply view farmers markets as places to stock up on locally grown healthy food such as fruits and vegetables. Don't get me wrong here, they're great places to shop for stuff like that (if you're into that sort of thing), but you can usually also find plenty of deliciously unhealthy foods at them as well. To give you some examples of what I'm talking about I took a trip down to the Wauwatosa Farmers Market on a recent Saturday morning.
My first stop was a crepe stand where for $3.50 I purchased a cinnamon and sugar crepe with powdered sugar sprinkled on top of it. Once I finished that off I headed to a tent where there was a family selling homemade egg rolls and crab rangoon. I decided to try both of these deep fried offerings and was glad I did because they tasted great.
Stop number three was at a tent that was selling various dip mixes. I sampled a few of them and ended up buying a mix to make a cheese and bacon dip. They were also selling honey ham sticks so I picked up seven of those as well. You know what goes great with ham sticks? Cheese curds, and that's why my next stop was at the West Allis Cheese & Sausage Shoppe tent where I purchased a bag of the white Cheddar variety.
After that I walked over to the Maxie's Southern Comfort / Blue's Egg tent and enjoyed some grits topped with tasso gravy and a fried egg. Since I started off my morning by eating something sweet I decided it was only appropriate to end it the same way, so I headed over to the Apple Holler tent and finished off my trip to the Wauwatosa Farmers Market with a cinnamon bun topped with tons of frosting.
So, there you have it folks. If you thought your local farmers market only sold fruits and vegetables you're probably wrong, so stop down and check it out. If someone would just open a tent that sold beer the Wauwatosa Farmers Market could easily become my new favorite place to hang out on Saturday mornings.