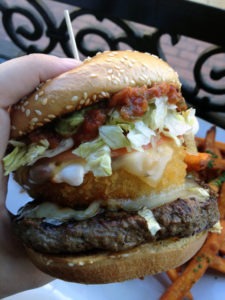 I took a trip out to San Diego recently, and before I got into town I sent out a tweet asking all the DudeFoods Twitter followers where I should stop and eat while I was there. Once of the first responses I received mentioned that I needed to check out the burgers at Nicky Rottens. As it turns out the bar/restaurant was only a few blocks from where I was staying, so I decided to stop in for lunch.
I knew I wanted to try one of their burgers, but honestly, they all sounded delicious so I decided to start my meal off with a beer and an appetizer of fried zucchini slices to give me some more time to peruse the menu. Normally I'll not a big fan of zucchini, but I figured that deep frying it could only make me enjoy it more and I was absolutely right. In fact, I think that the deep fried zucchini at Nicky Rottens might have single-handedly turned me into a zucchini fan. The cucumber wasabi dipping sauce that came with it was also a big help. Man that stuff was good!
When it came time to decide on a burger I was initially leaning towards their Bacavo Burger (a beef patty topped with apple-wood smoked bacon, avocado, lettuce, tomato, onion, Swiss cheese and their signature Rottens Sauce), but then I spotted the Dirty Sanchez Baja Burger. I just couldn't pass up a burger topped with chili, pepper jack cheese, jalapeños, sour cream, lettuce, tomato, homemade salsa, guacamole and a giant onion ring.
When my burger arrived it was clear that I made the right choice. Not only was it cooked perfectly, but it was absolutely packed with toppings. I could have done without quite so many jalapeños (and actually ended up picking a ton of them off as you can see from the photos), but everything else was pretty much perfect, right down to the sweet potato fries that came on the side. All in all it turned out to be a great lunch. Thanks Nicky Rottens!