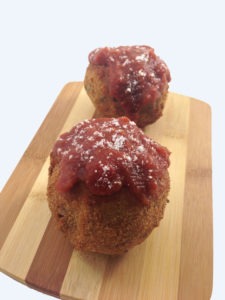 I've had the idea for Deep Fried Spaghetti and Meatballs ever since I made my Mozzarella Stuffed Meatball Sliders over a year ago. Meatballs stuffed with cheese are great and all, but it's pretty hard to beat deep fried meatballs that are stuffed with cheese AND spaghetti noodles!
To create my Deep Fried Spaghetti and Meatballs I started off by cutting cubes of mozzarella cheese and then wrapping cooked spaghetti noodles around them. After that I packed some 90% lean ground beef around the spaghetti-wrapped cheese cubes and then cooked them in my oven for 30 minutes at 375°.
Normally I like ground beef that has a higher fat content, but I used 90% lean in this instance just so the meatballs would shrink less and I'd have a lower chance of the cheese leaking out while they were in the oven.
Once my cooked meatballs were done cooling I dredged each one in flour, egg wash and Italian style breadcrumbs before dropping them in my deep fryer. As a finishing touch I topped each deep fried meatball with marinara sauce and then sprinkled some Parmesan cheese on them.
Overall my Deep Fried Spaghetti and Meatballs turned out amazing. They were absolutely delicious. Now that summer is here I could definitely see these being put on a stick and served at state fairs across the country.