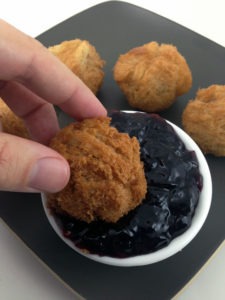 Alright, so my original plan with this was to freeze cubes of both peanut butter and jelly, bread them — with actual bread — and then deep fry them. Do you know what I discovered though? Jelly doesn't exactly freeze.
Sure, it sticks together a little more than normal jelly does, but as far as freezing enough to the point where I could wrap it in bread and then drop it in my deep fryer it just wasn't happening. So, I went with the next best thing, I deep fried the cubes of peanut butter and then just dipped them in jelly when I was done!
As I already mentioned, I started off by freezing some cubes of peanut butter in an ice cube tray. Then, I wrapped a slice of white bread around each one and just patted them into balls like you would with a snowball. The final step? Drop them in the deep fryer for about 30 seconds.
The finished product was delicious. The crispy breading kept the peanut butter, which was now nice and gooey from the heat of the oil, perfectly intact in the center of each ball and dipping the Deep Fried Peanut Butter in grape jelly was the perfect compliment to the dish. In retrospect I probably could have achieved my original goal by just deep frying some Uncrustables, but where's the fun in that!?