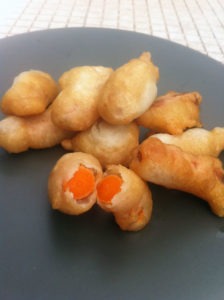 It may come as a surprise to some of you that I don't already own a deep fryer, but the truth is that up until a week ago I didn't. You see, it was on that faithful day that I was walking through Target on my lunch break looking at kitchen appliances when I noticed that they had quite a few deep fryers on clearance for half price. Now I'm not a huge religious guy, but obviously this was some sort of sign from God and he was trying to tell me that I needed to buy one of them to better my blog, and who am I to argue, so I grabbed one and headed up to the checkout lane.
The toughest decision when owning a deep fryer is clearly what to deep fry first. Chicken nuggets? Nope, too easy. Oreo cookies? Already been done. Suddenly an idea came to me. What if I were to take a bunch of foods that were normally thought of as healthy and deep fry those? A few minutes later I was on my way to the grocery store's produce section where I stocked up on baby carrots, bananas, Granny Smith apples, avocados and a watermelon.
When I arrived back at home I got to work slicing everything up and mixing together a batter to dip it all in. Just using a regular batter seemed kind of boring though, so I decided to coat all the fruits and vegetables with a beer batter instead. I figured that since I was already making them far less healthy than intended that throwing some beer into the mix as well certainly wouldn't hurt things.
Out of all the fruits and vegetables I deep fried that first day the avocado slices were easily my favorite. You know what's funny though? I expected everything else to taste completely disgusting and it all actually ended up tasting really good. The banana slices got a little soggy, but still tasted fine. Everything else stayed pretty much intact.
The only thing I didn't really like were the watermelon chunks. There's just something about biting into a nice cold slice of watermelon that deep frying can't make any better. Everything else though? Totally better deep fried…