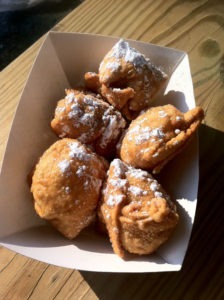 Last summer the big hit at state fairs across the country was deep fried beer, but this year it seems like deep fried butter has taken its place as the completely ridiculous food to try. The Wisconsin State Fair started this past Thursday, and can you guess what my first stop was when I headed down there? Yep, the tent that was selling deep fried butter!
Deep fried butter (at least the stuff served at the fair here in Milwaukee) consists of an entire stick of butter which is cut into five pieces that are then wrapped in wontons, deep fried and sprinkled with powdered sugar.
If I can give you one tip if you ever try deep fried butter it's that biting directly into the middle of one of the pieces is a huge mistake. I did that exact thing when I took my first bite and had the pleasure of warm butter squirting all over my entire arm.
Aside from covering myself in butter though I'm kind of embarrassed to admit that I absolutely loved the deep fried butter. Seriously, there has to be something wrong with me. No one should actually enjoy this stuff right?
For as much as I liked it though, I kind of wish that I'd just split an order of it with someone instead of eating all five pieces myself. About 15 minutes after finishing it all I could feel was all the warm butter swishing around in my stomach, which isn't the greatest feeling when you're walking around at a crowded fair and it's 80 degrees outside.