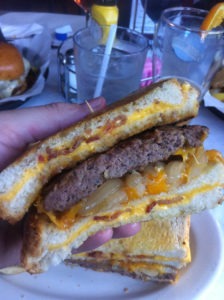 It seems like every bar or restaurant out there has been adding gigantic burgers or crazy eating challenges to their menus lately, and you know what? I'm totally cool with that. I stopped at Off the Clock Bar & Grill recently for dinner and that's where I came across the Clock Stopper, a 1/3 pound Angus burger topped with Cheddar cheese and onions and served with two grilled cheese sandwiches as the bun. Oh yeah, and if that wasn't enough the grilled cheese sandwiches also have bacon in them.
Now, Off the Clock wasn't the first place to come up with the idea for a burger with grilled cheese sandwiches that act as the bun. In fact, a chain of ice cream shops named Friendly's announced a similar burger a good four or five months before Off the Clock even opened. Seeing as how the closest Friendly's is 223 miles from where I live though I was plenty happy to try Off the Clock's version of this monster.
As you can probably imagine, having two grilled cheese sandwiches in lieu of a bun makes for a pretty tall burger. I actually considered eating one grilled cheese on its own first and then pulling the two pieces of bread from the second one apart and putting the burger patty in between them. Then I came to my senses and realized how silly that would be. If I just wanted a regular burger with a grilled cheese sandwich on the side I could have ordered that, but this was the Clock Stopper; a burger meant to be eaten the exact way they serve it, with one grilled cheese sandwich sitting below the burger patty and a second one resting comfortably on top of it.
I'm glad I decided to eat the Clock Stopper the way it was intended because getting a mouth full of gooey cheese and bacon at both the top and bottom of each delicious bite was a definite plus. As I was finishing up my burger the waitress mentioned to me that the record for the most Clock Stopper burgers eaten in one sitting is two. That certainly sounds like a challenge to me…