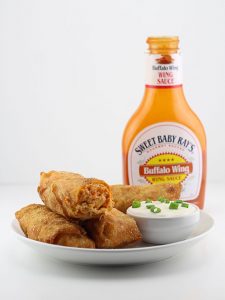 The fact that Sweet Baby Ray's makes such a great barbecue sauce is sort of a blessing and a curse for them. On one hand, it's the perfect sweet and tangy accompaniment to any type of dish. On the other hand though, their barbecue sauce is so good that you sort of forget that they actually have more than 20 other flavors in their product line.
Case in point: Last year I used their Honey Chipotle Sauce — which up until that day I never had the pleasure of trying —  to make some Honey Chipotle Hawaiian Pork Sliders that turned out — largely because of their sauce — absolutely perfect.
Recently they asked me to come up with a second, tailgate-inspired recipe using their Buffalo Wing Sauce. First of all, I didn't even know that Sweet baby Ray's made buffalo wing sauce, but after tasting it I really wish that someone would have made me aware of it earlier because this stuff is good!
Now as far as game day recipes go the easiest thing to do would just be to grill up some wings and toss them in Sweet Baby Ray's Buffalo Wing Sauce, and if you do that you're going to end up with some damn tasty wings that take little to no effort at all, but if you're willing to spend just a little more time you can make these amazing Buffalo Chicken Egg Rolls.
If you've never made homemade egg rolls before I know that the first couple you roll can be sort of a pain until you figure it out, but once your egg roll rolling game gets going you can knock out five or six egg rolls a minute easily. Now if you'll excuse me I'm going to try and figure out which Sweet baby Ray's sauce I want to make something with next. Spoiler alert: It'll most likely be either their Hickory & Brown Sugar Barbecue Sauce or their Kickin' Bourbon Wing Sauce….
Want to make these Buffalo Chicken Egg Rolls for yourself? Just head over to SweetBabyRays.com for the recipe!