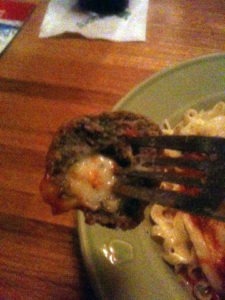 As soon as I saw Applebee's new provolone-stuffed meatballs with fettuccine mentioned on one of those "unhealthiest new restaurant foods" lists I knew that it was one of those foods that I had to try as soon as possible. I mean, provolone cheese is great and meatballs are always delicious, so combining the two is pretty much a win-win situation.
I headed to Applebee's for dinner one night recently and after enjoying an appetizer of mozzarella sticks (I wanted to stick with a "foods stuffed with cheese" theme for the night) I was finally presented with my plate of stuffed meatballs and fettuccine. My first thought was that they should really call this "fettuccine with provolone-stuffed meatballs" and not the other way around, because all this dish comes with are three meatballs that are only slightly larger than golf balls. Don't get me wrong, the meatballs were great, but I expected either a few more meatballs, slightly larger meatballs or both.
The fettuccine was alright, but nothing spectacular. It came with sauce and melted cheese on it, which was good, but kind of just tasted like something I cooked in my microwave at home. This is one of those meals where you can almost feel yourself getting more and more unhealthy with each bite, but I guess that should be expected when you're eating a dish that contains 1,550 calories and 97 grams of fat.