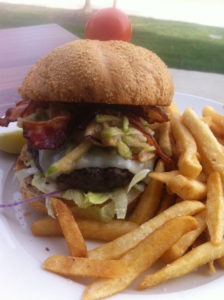 I've been following and salivating for what seems like forever now as I've watched Motor Bar & Restaurant unveil their monthly specialty burgers. Every single one of them has looked completely delicious and every single month I tell myself that I need finally make it a point to stop in and eat there.
General laziness got the best of me however and after missing out on awesome creations like their Bloody Mary Burger (an Angus patty smothered in Bloody Mary sauce and topped with grilled beef sticks, lettuce, tomatoes, red onions and provolone cheese), their B.L.T. Burger (a burger topped with a half pound of bacon, shredded lettuce, sliced tomatoes and a ranch aioli) and their All-American Burger (a hand packed Angus burger smothered in Motor's Roadhouse Chili and topped with American cheese, bacon and a giant onion ring) I finally stopped in to try their burger of the month for October.
This month Motor is featuring their Apple Bacon Burger, which consists of a half pound certified Angus beef patty topped with shredded lettuce, sliced onions, Swiss cheese, smoked bacon and apple slaw. It's funny because I never eat coleslaw as a side dish, but for some reason when I order a burger or sandwich that's topped with slaw (like the overstuffed sandwich I got from Lucky's or like with this burger for instance) I absolutely love it. The apple slaw that Motor used on their Apple Bacon Burger was much better than your average coleslaw however, and was the perfect addition to this well-prepared burger.
In addition to my burger I also tried a side of their mac & cheese, which was great as well. For the amount they give you it was also quite the steal at $3.95. Between that and the burger and fries I ate I left lunch feeling more full than I have in a long time, and for me and how much I eat that's saying a lot. If you want to try the Apple Bacon Burger for yourself you have 14 more days to stop in at Motor and order it, but if you miss it I'm sure that next month's specialty burger will be just as good.