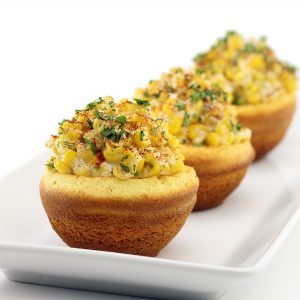 A couple weeks ago I told you guys about the 48 hours I spent in Iowa learning everything there is to know— or as much as you can possibly learn in two days — about Iowa Corn.
The trip was tons of fun, and actually inspired me so much that ever since I arrived back home here in Wisconsin I've been coming up with tons of awesome new recipe ideas using corn.
Sure, I could make more corn dogs, but this year alone I've already made Pulled Pork Corn Dogs, Macaroni and Cheese Corn Dogs, Breakfast Burrito Corn Dogs and even Flamin' Hot Cheetos Corn Dogs. They were all absolutely amazing, but for this recipe I wanted something that would really showcase the multiple uses of corn when it comes to cooking and that's exactly what these Elote (sometimes known as Mexican street corn or Mexican grilled corn) filled cornbread bowls do!
My original plan for these cornbread bowls was to fill them with pulled pork or macaroni and cheese or something that's normally served with cornbread, but then I came to the conclusion that nothing could pair better with corn than even more corn!
You will need a Bake-a-Bowl Pan
to make the cornbread bowls, but once you have one you can also use it to make things like pizza bowls, scrambled eggs in pancake bowls and popcorn chicken in waffle bowls.
The great thing about this recipe is that if you're short on time you can always just swap out the cornbread ingredients for a boxed mix or even buy a bag of frozen corn to heat up in your microwave rather than grilling your corn. It probably won't be quite as delicious if you do it that way, but it'll still be good. Oh, and I will be making these cornbread bowls again so I can fill them with pulled pork and macaroni and cheese!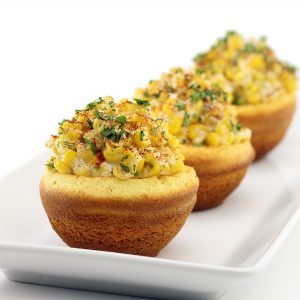 Elote in Edible Cornbread Bowls Recipe
Nick @ DudeFoods.com
This recipe combines Elote (Mexican street corn) with a unique way to serve it (edible cornbread bowls).
Ingredients
1

cup

cornmeal

3/4

cup

flour

1/3

cup

sugar

1 1/2

teaspoons

baking powder

1/4

teaspoon

salt

2

eggs

1

cup

milk

1/3

cup

vegetable oil

6

ears

corn

1/4

cup

mayonnaise

1/4

cup

Mexican crema (or sour cream if you can't find Mexican crema)

1/2

cup

cojita cheese

2

teaspoons

chili powder

1/2

cup

cilantro

chopped

2

lime wedges
Instructions
In a bowl combine cornmeal, flour, sugar, baking powder and salt. Stir in egg, milk and vegetable oil.

Pour batter into the Bake-a-Bowl Pan.

Bake at 375° for 20 minutes or until a toothpick inserted into the cornbread bowls comes out smooth.

Grill ears of corn over high heat turning occasionally for 10 minutes or until lightly charred.

Shuck corn and combine in a bowl with mayonnaise, crema, cheese, chili powder and cilantro. Squeeze lime over corn.

Fill cornbread bowls with Elote and enjoy!