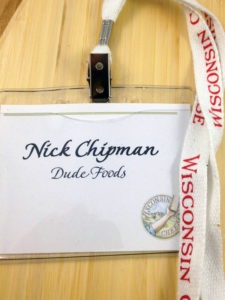 Wisconsin is known for many things, but two of the most popular would probably have to be beer and cheese. I've been on plenty of brewery tours before, spending countless hours watching beer being made (and tasting the results), but until recently it never really occurred to me that I could go on a creamery tour and see firsthand how cheese is produced.
You may or may not be aware of it, but June is National Dairy Month, and to help celebrate I was recently invited by the Wisconsin Milk Marketing Board to spend a couple days traveling around the state visiting creameries, talking with cheesemakers, watching them produce their award-winning cheeses and the best part of all — sampling their work!
The cheese tour kicked off bright and early on a Friday morning at 7am (which is actually earlier than I get up for work on a normal day). I boarded a coach bus with a small group of fellow food bloggers and we headed to the Chalet Cheese Cooperative in Monroe, Wisconsin for our first stop.
What's really interesting about Chalet Cheese is that they're the only U.S. producer of Limburger cheese. I'm not sure if the reason why is just because no one else can actually stand the smell of all that Limburger on a daily basis, or if it's because their cheese is just THAT good, but after sampling it I'm going with the latter. They also make some pretty spectacular varieties of Swiss and Baby Swiss cheese as well.
Stop number two on the tour was Hook's Cheese in Mineral Point, Wisconsin. Hook's produces an insane amount of different cheese varieties, but they're most well known for their blue cheese and their aged Cheddars.
Their 15 year aged Cheddar is currently the oldest available aged Cheddar that you can buy anywhere, and sells for $50 a pound. Comparatively, the 12 year aged Cheddar that they offer is a bargain at $23.95 a pound, so it was here that I came up with what can only be described as the best money making idea I've had in a long time — invest my life savings in Hook's 12 year aged Cheddar, age it myself for three more years and then re-sell it and double my money!
Oh yeah, they also produce a Bacon Cheddar cheese, which I definitely plan on incorporating into a future DudeFoods recipe post. In fact, I think I need to convince one of these cheesemakers to let me produce some sort of limited-edition DudeFoods inspired cheese. Any takers out there?
From there we headed to Dodgeville, Wisconsin where we visited Uplands Cheese. What really amazed me about Uplands is that they actually have all their own cows and produce all their own milk, which in turn is used in the two different types of cheese they make — Pleasant Ridge Reserve and Rush Creek Reserve.
Pleasant Ridge Reserve has won "Best of Show" at the American Cheese Society's annual competition three times in the past ten years, which no other cheese has ever done. It also won the same title at the 2003 US Cheese Championships, making it the only cheese ever to win both national competitions. After sampling the cheese and tasting its rich, nutty flavor it's easy to see why it keeps winning awards.
It's sort of crazy, for how much cheese I eat on a weekly basis I never thought about just how much hard work goes into making it. After visiting these creameries and talking with the cheesemakers themselves I now realize the countless hours of dedication and planning that are part of the process. In addition, I now feel sort of silly, or maybe even a little Sacrilegious, for combining so many of these amazing cheeses into the ridiculous 25 cheese pizza that I made last year. Oh well, you live and you learn I guess!
Although it's a start, this blog post doesn't even really scratch the surface of how many amazing and distinct Wisconsin cheeses there are or all the hard work that goes into producing them. If you'd like more information I'd definitely recommend checking out EatWisconsinCheese.com where you can find everything you need to know about the 1,200 cheesemakers in Wisconsin and the more than 600 varieties of cheese they produce along with pairing ideas and a ton of amazing recipes (a few of which were even created by yours truly!) I'll also be writing up a couple more blog posts highlighting the excellent cheese-inspired meals that we were treated to on this trip so keep checking back for those!