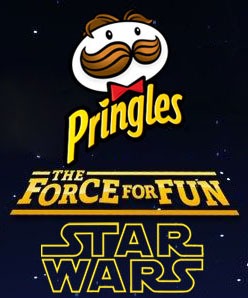 Funny story, I've never seen any of the Star Wars movies. It's not that I don't WANT to see them, but now after hearing about them for so many years I pretty much already know the entire story.
Plus, now that there are so many of them I'd basically have to invest an entire weekend just to catch up, and my weekends are usually reserved for making things like Bacon Weave Tacos and Chocolate Chip Cookie Cones. In the epic words of Sweet Brown, "Ain't nobody got time for that!"
So what's with all this Star Wars talk? Well, it's because they've teamed up with Pringles for their "The Force For Fun" video contest where they've been accepting fan-generated video ideas in exchange for a chance at a $25,000 grand prize.
They're down to seven finalists — which you can check out on YouTube — so it's too late to submit your own video treatment, but you still have a chance to at least win something because Pringles is hooking one lucky DudeFoods reader up with a Pringles and Star Wars prize pack!
Want to win? Just leave a comment letting me know what your favorite Star Wars movie is. In the event that you're like me and haven't seen any of them feel free to leave a comment telling me what your favorite Pringles flavor is and I'll count that as an entry as well. Don't have a favorite Pringles flavor? Just write something. Tell me your Grandma's name or your favorite color, I don't care. Just write anything. Seriously.
I'll pick one random winner a week from tomorrow on Friday, May 24th. Good luck!
Update: 5/24/2013 – Congratulations to Tyler who won the Star Wars / Pringles prize pack!