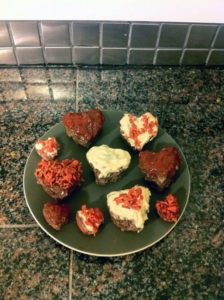 Being the romantic guy that I am I wanted to do something nice for my wife for Valentine's Day. She isn't a fan of flowers though and buying her some chocolates seemed too easy so I decided to make her some cupcakes instead. Heart-shaped meatloaf cupcakes to be exact.
I started by taking a couple pounds of ground beef and mixing it with some spices, an egg, ketchup and some mustard. Once that was done I put the meat into a heart-shaped cupcake mold that I bought from Target and tossed it in the oven. I also used a heart shaped ice cube tray to make some smaller meatloaf bites to go along with the cupcakes.
Once everything was done cooking I popped all the meatloaf cupcakes and meatloaf bites out of their trays and got to decorating. I frosted them using ketchup and mayonnaise and then decorated half of them with bacon bit sprinkles.
If you're wondering if she actually tried these the answer is no. Can you believe it? I actually had to eat them all myself! Darn!