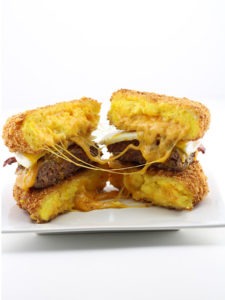 You know how you can go almost anywhere these days and order a breakfast burger that comes with a fried egg on top of it? Well, it's not that I don't love this idea — because I always add an egg to my burger when given the chance — but a few weeks ago I decided to take it a step further and make an entire bun out of deep fried scrambled eggs and cheese.
To create the deep fried scrambled egg bun I froze scrambled eggs and shredded cheese in a couple 4″ mini springform pans and then popped the egg discs out, coated them in flour, dipped them in an egg wash, covered them in panko breadcrumbs and then deep fried them for a couple minutes each in 375° oil.
Once my bun was ready I topped a 1/3 pound ground beef patty in Cheddar cheese — because if there's one thing I've learned from living in Wisconsin it's that there's no such thing as too much cheese — and a few slices of bacon. Oh, and in case you're wondering if I skipped the fried egg since the entire bun itself already consisted of eggs the answer is no. I still threw one of those on my burger as well.
All in all my Deep Fried Scrambled Egg Bun Burger was cheesy… it was messy… it was amazing! I think that at some point soon I need to try making some deep fried scrambled egg and cheese balls that are similar to the Deep Fried Bacon Wrapped Peanut Butter Balls I made a couple weeks ago.