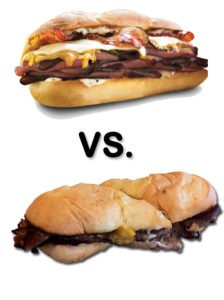 When I first saw a picture of the new Angus Three Cheese & Bacon Sub from Arby's I thought to myself "wow, that looks like something I'd make for myself after drinking all night and stumbling home from the bar." In other words, it definitely looked like something I needed to try.
How can you go wrong with Angus beef, three different cheeses and bacon on an Italian style roll? Well, I'll tell you how you can go wrong, by enticing us with a picture of an amazing looking sandwich and then serving something that looks completely different.
It's a given that when you order food it's never going to look exactly like the picture on the menu, but this sandwich wasn't even close. My sub looked like someone at Arby's made it, sat on it, took half of the meat out of it, sat on it again, wrapped it up and then served it to me. I also couldn't believe how small the sandwich was. The promotional picture made it seem like it would be about the same size as a footlong sub From Subway, but again, this wasn't the case at all. Do you see the fries in the picture below? That was a small order of fries and even those looked huge in comparison to the Angus Three Cheese & Bacon Sub.
Maybe this was an isolated incident and it just so happened that the Arby's I went to made a really bad sandwich, but I'm certainly not going to waste another $4.99 on one of these to find out if it was a fluke or not.