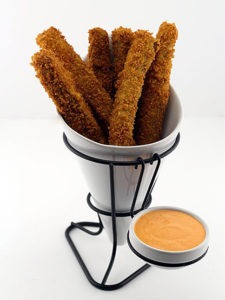 Smithfield recently sent me a shipment with a nice selection of their numerous Marinated Fresh Pork products and asked me to create a couple recipes using them.
Now, normally making something like a Garlic & Herb Pork Tenderloin or a Rosemary & Olive Oil Loin Filet is a recipe in itself, but since this entire line of Smithfield products already arrive marinated, pre-seasoned and ready to toss straight onto your grill or into your oven I had to dig a little deeper into my idea library to come up with something unique and different.
For my first recipe I decided to use Smithfield's Teriyaki Pork Tenderloin to create some Teriyaki Pork Fries. So what exactly are Teriyaki Pork Fries? Well, they're basically strips of teriyaki pork that are cut into strips, topped with panko breadcrumbs and deep fried. Oh, and they're ridiculously delicious….
The best part however is that since all of Smithfield's Marinated Fresh Pork products are ready in as quickly as 20 to 30 minutes and require no marinating or seasoning they take what would normally be the longest, most labor intensive part of cooking a meal and turn it into the fastest and easiest instead.
I started off by cooking the Teriyaki Pork Tenderloin in my oven according to the directions on the package. Once it was done I let it rest for a few minutes and sliced it into equally sized strips. I then dipped each one into an egg wash and then rolled them in a bowl of Japanese-style panko breadcrumbs. I honestly couldn't even tell what the difference was between those and regular panko bread crumbs, but I figured that they at least went along with the Japanese theme that I already had going with the teriyaki pork.
Next up I heated the oil in my deep fryer to 375° and dropped my Teriyaki Pork Fries in for 60 seconds. After that they were golden brown and ready to eat! I also wanted something to dip my fries in so I whipped up some Sriracha Mayo by mixing three parts mayo and one part Sriracha. If that's too spicy for you just add some more mayo and if it isn't quite spicy enough just add more Sriracha. You could easily substitute any other hot sauce as well but again, I was sticking to a Japanese theme.
After how amazing these Teriyaki Pork Fries turned out I'm definitely excited to try the other Marinated Fresh Pork products that Smithfield sent me. Plus, next month I'll have a new recipe for you guys using their Marinated Sirloin, so make sure to be on the lookout for it!