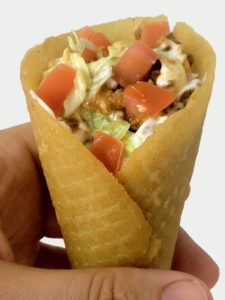 Question: What's the worst thing about hard shell tacos? Actually, let me rephrase that. What's the ONLY bad thing about hard shell tacos? They fall apart when you eat them leaving you with a frown on your face and a plate that's covered in toppings.
What if it didn't have to be that way though? What if you could enjoy the crunchiness of a hard shell taco without the fear of it crumbling apart upon first bite? Well, now there is! Ladies and gentlemen, I give you the Tacone!
I once again pulled out my waffle cone maker — the same one I've already used to make wafflecakes, my pizza cone, and my personal favorite, the chicken and waffle cone. This time, however, I combined some corn flour, water and a dash of salt, before flattening out the doughy mixture and nestling it between my waffle cone maker's two hot plates.
After about a minute and a half I took my partially cooked dough out, formed it into a cone, let it cool a little and then completed the cooking process by dunking it in my deep fryer. A couple minutes later I was left with a crunchy corn taco shell in the shape of a cone.
Next, I gathered up all the ingredients that I wanted inside my taco, mixed them up in a bowl to insure that each bite contained equal amounts of toppings and spooned them into my cone.
I probably should have taken a few more pictures before I started eating this thing, because honestly, they didn't turn out as good as I would have liked, but I didn't care. All I wanted to do was take a bite out of the Tacone and see how it tasted, and it ended up being every bit as spectacular as I expected!
Do you know what my favorite thing about my Tacone was though? During the process of eating it not a single thing fell out of it onto my plate! No ground beef, no cheese, no tomatoes and not even a single piece of lettuce!