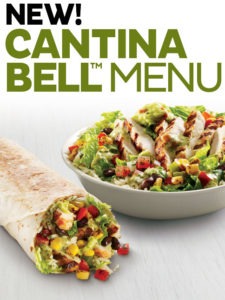 Taco Bell recently launched a line of "gourmet inspired" bowls and burritos. They call it their Cantina Bell menu, and although they don't come out and say it directly, it's pretty obvious that their new offerings are an attempt to take some business from chains like Qdoba and Chipotle who pride themselves on using only the freshest ingredients.
I'm always down to try anything new that Taco Bell is dishing up, so last week I stopped in to give the new food a taste. At $4.79 for a chicken or veggie burrito or bowl, or $4.99 if you prefer steak, their Cantina Bell items are a little bit cheaper than both Qdoba and Chipotle. After taking my first couple bites however I quickly discovered that you get what you pay for.
I wanted to get a good sampling of the new menu so I ordered a steak burrito, a chicken bowl and a side of chips and guacamole. I started off with the Cantina Bowl and right away something just didn't taste quite right. The citrus-herb marinated chicken had a really weird consistency to it. It wasn't even the least bit chewy. Granted, you don't ever want your chicken to be too chewy, but this didn't even really taste like chicken at all.
My Cantina Burrito wasn't much better. I like the burritos from Qdoba and Chipotle because the individual flavors of all the ingredients actually stand out. With my burrito from Taco Bell everything just sort of seemed to taste the same after a little while.
The thing that Taco Bell doesn't seem to understand is that people don't want to go there to eat fresh, healthy food. People go to Taco Bell because they want taco shells made out of Doritos. They want to show up at 1am after drinking all night, spend $5 and go home with four Beefy 5-Layer Burritos. No one wants to go to Taco Bell and pay $15 for three Cantina Burritos regardless of how good they are or how much they taste like Qdoba or Chipotle.