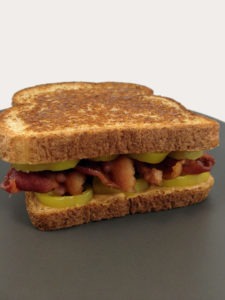 I'm sure most of you are aware of what an Elvis sandwich is, but just in case you aren't I'll break it down for you. The sandwich, which has often been referred to as one of Elvis Presley's favorites (hence the name), consists of bacon, peanut butter and banana between two pieces of grilled bread.
I've eaten plenty of Elvis sandwiches in my life, but recently I decided to switch it up a little and swap out the bananas for banana peppers. I call this sandwich the Spicy Elvis.
I know that banana peppers really aren't too hot at all, but seeing as how I'm not a huge fan of spicy foods to begin with they were more than enough for me. Plus, they have sort of a sweet taste that actually compliments the peanut butter and bacon really well.
Don't get me wrong, I definitely prefer the classic Elvis sandwich over this version of it, but it's nice to have a little variety every once in a while. If you still happen to be looking for something a little different though and banana peppers just aren't your thing you could always try making some of the Elvis cookies that I blogged about last year. It's pretty much impossible not to like those….