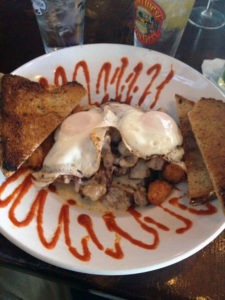 Me, my wife and our friend Curt were headed out to brunch recently and were looking for someplace new to try so I suggested that we check out The Eatery on Farwell. I'd already been there during happy hour and enjoyed the few appetizers that I tried during that visit, so stopping in for brunch seemed like a safe bet.
Deciding what I wanted to eat was a pretty daunting task. The Eatery on Farwell easily has one of the biggest brunch menus in Milwaukee and I'm pretty terrible when it comes to making decisions, especially ones involving food because everything always sounds so good to me.
After ten minutes of still trying to figure out what I wanted I glanced up at the ceiling and noticed a chalk board with a bunch of names written on it under the heading "I finished the Shenanigans."
The Shenanigans, which I hadn't noticed on their brunch menu until that point, is a plate of food consisting of bacon, a bratwurst, a Polish sausage, pulled ham, American fries and Cheddar cheese curds topped with country gravy and two eggs. Oh yeah, and toast. As if that isn't already enough food it also includes two slices of toast.
Usually when I can't decide what to eat I just try to eat it all, which is sort of what you end up doing when you order this dish, so order the Shenanigans is exactly what I did!
It's funny, when I was a kid I was the pickiest eater possible and I absolutely hated it when the different foods on my plate would even touch each other and now I'm eating stuff like this and loving every single bite of it.
After I finished my meal the waitress offered me a piece of chalk so I could add my name to the list of people who have finished the Shenanigans, but seeing as how I was already on my fourth drink I decided that standing on my chair while trying to write my name on the ceiling probably wasn't the greatest idea.
Now I just need to stop back sometime and try the five or six other menu items that I also wanted to order. Seriously, the brunch menu at The Eatery on Farwell is gigantic. If you stop in and can't find anything that you want to eat there's clearly something wrong with you.
Oh yeah, and then I got a blueberry muffin to go and fed it to a dog that someone left outside on the patio. He finished it in about five seconds, so apparently they have some pretty good muffins as well. Either that or he was just really, really hungry.