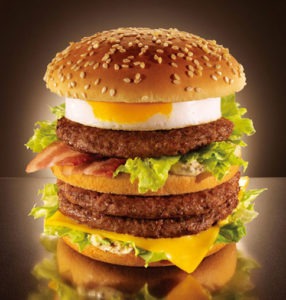 It's no secret that fast food menus vary from country to country. Burger King for example recently offered it's UK customers a Whopper that included Brussels sprouts that they creatively titled the Sprout Surprise Whopper. If you live in Germany and love tuna you can head to Pizza Hut and feast on a tuna and red onion pizza.
McDonald's on the other hand happens to have a burger that they sell in Japan called the Mega Tamago. The Mega Tamago is similar to a Big Mac but has an extra beef patty and also includes bacon and an egg. As soon as I saw a picture of this tasty looking burger I knew that I had to try one. Unfortunately, Milwaukee is about 6,000 miles from Japan so instead of traveling all that way for lunch I decided to do the next best thing and recreate my own.
My original plan was to just buy a Big Mac and a hamburger (since I needed one extra beef patty) and then take them home, fry up an egg, cook some bacon and assemble my sandwich. Since I wanted my meal to be as authentic as possible however, I decided that the egg should be from McDonald's as well. Not knowing if the restaurant would let me add bacon to my Big Mac I cooked some up at home, threw it in a plastic bag and headed to the nearest McDonald's.
I arrived shortly before 11am so I'd have time to order a breakfast sandwich since I needed an egg for my Mega Tamago. As I waited the few minutes for breakfast to end so I could order the Big Mac I thought to myself "What would be even better than a Mega Tamago burger? A DOUBLE Mega Tamago burger!" Luckily I still had time to buy one more breakfast sandwich (since I now needed two eggs to go with my total of six beef patties). Once they started serving lunch I went back up to the register and ordered two Big Macs and a McDouble which I used for the two extra beef patties that my Double Mega Tamago required.
As soon as the rest of my food was ready I grabbed a seat and started putting my burger together. Once it was completely assembled it was even taller than the Fast Food Super Stack that I created back in September, and boy was it good! I just wish that I could have simply ordered one off the menu like you can in Japan.
Hey McDonald's, you know how for years people have been begging you to serve breakfast all day long but you said you can't because there isn't enough room in your kitchens? How about starting off by just serving the Mega Tamago all day long so you at least have a somewhat breakfast related option (you know, since it has an egg and bacon) for your customers? Seriously, how hard can it be to make a little extra room in your kitchens so you can reheat eggs all day long?