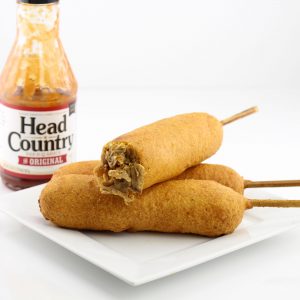 Last summer I used Head Country Bar-B-Q sauce and seasoning to make a slow cooker full of amazing pulled pork that I then turned into Pulled Pork and Cornbread Shooters.
Recently they asked me to create another recipe and video for them, and immediately the idea of pulled pork fries came to mind. My plan was to make pulled pork, flatten it out in a glass dish, freeze it and cut it into French fry shapes that I'd then bread and deep fry. When I pitched the idea to Head Country though they responded with an idea of their own that was way better – Pulled Pork Corn Dogs!
I've made regular corn dogs plenty of times in the past and they've always turned out great, but when I sat down to plan out a pulled pork version it took me a little while to figure out how to best make it happen. My original plan was to use plastic wrap to form pulled pork around corn dog sticks, which I'd then freeze, batter and deep fry. After a quick Amazon search though I came across a silicone popsicle mold
that ended up working absolutely perfectly for this recipe!
Once I had the popsicle mold the process to make the corn dogs was super easy. I picked up a pork shoulder from the grocery store, seasoned it with Head Country's High Plains Heat seasoning, added a cup of their Original BBQ sauce and cooked it on high for four hours in my slow cooker. I then packed the pulled pork into the popsicle mold, froze it, transferred it onto corn dog sticks, coated them in flour, dipped them in batter and deep fried them.
After seeing how well these Pulled Pork Corn Dogs turned out I'm now racking my brain trying to think of all the other foods I can turn into corn dogs. Macaroni and cheese corn dogs? Sure! Hot ham and cheese corn dogs? Absolutely! The possibilities are endless!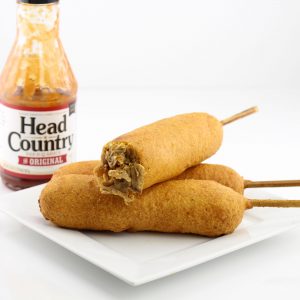 Pulled Pork Corn Dogs Recipe
Nick @ DudeFoods.com
A totally unique corn dog recipe that swaps out the hot dogs for pulled pork instead!
Ingredients
2

quarts

oil

for frying

4

corn dog sticks

or chopsticks if you can't find corn dog sticks

1

boneless pork shoulder

approximately 3 lbs.

1

cup

Head Country Bar-B-Q sauce

1

jar Head Country Bar-B-Q seasoning

1

cup

cornmeal

1

cup

flour

¼

cup

sugar

¼

teaspoon

salt

⅛

teaspoon

pepper

4

teaspoons

baking powder

1

egg

1

cup

milk
Instructions
Season the entire pork shoulder with your choice of Head Country seasoning and place into slow cooker.

Top with 1 cup Head Country sauce of your choice and cook on low for 8 hours or high for 4 hours or until pork shoulder can easily be shredded with a fork.

Shred pork shoulder with a fork and stir to coat with sauce.

Transfer pulled pork to popsicle mold and use a corn dog stick to poke holes in the center of each cavity so the pulled pork can easily be inserted onto the corn dogs sticks once frozen. Freeze for an hour.

Heat oil in deep fryer or heavy skillet to 375°F.

In a bowl, combine 1 cup cornmeal, 1 cup flour, 1/4 cup sugar, 1/4 teaspoon salt, 1/8 teaspoon pepper and 4 teaspoons baking powder. Stir in egg and milk.

Remove frozen pulled pork popsicles from freezer and place two of them on each stick.

Transfer corn dog batter to a tall glass, coat each stick of frozen pulled pork in the leftover flour and dip the corn dogs one by one into the batter.

Fry corn dogs in batches for 4 minutes or until golden brown.

Drain on paper towels and serve with your favorite Head Country Bar-B-Q sauce for dipping.