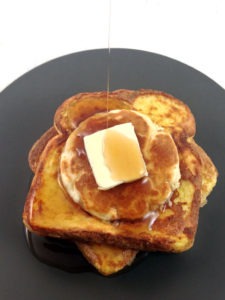 One of the things I love most about writing this blog is receiving emails from the people that read it. Those emails are even better when they contain awesome recipe ideas, like the one I recently got from a gentlemen by the name of Jordan, who suggested that I try making his Pancake Stuffed French Toast.
Jordan's recipe is simple, yet genius at the same time — take a few slices of bread, press an upside down wine glass down through the middle of each one creating a perfectly circular hole, dip the bread in some milk and eggs, throw it in a pan on the stove and then fill each hole with pancake batter.
Since the French toast takes a little longer to cook you'll want to place your slices in the pan and then let each one sit for 30 seconds or so before you add the pancake batter. Then, once the pancake batter starts bubbling your slices of Pancake Stuffed French Toast are ready to flip!
My first instinct was to just get as much pancake batter as I could into the hole in the middle of the French toast, but I quickly discovered that doing so wasn't a very good idea at all. You see, as the pancake batter started expanding it sort of pushed my French toast up from the pan a little bit, which in turn caused the pancake to cook faster than the French toast. On my second try I added one spoonful of batter and it worked perfectly.
I actually probably could have even used a little less batter since even with one spoonful per slice my pancakes still ended up protruding out the top of the French toast a little bit, but everything still cooked evenly so I was happy.
I actually contemplated taking Jordan's idea one step further by throwing my Pancake Stuffed French Toast into my waffle iron, pouring waffle batter on top of it and turning it into Pancake Stuffed French Toast Stuffed Waffles, but I decided to save that adventure for another day. After all, I was hungry and it's hard to try and get more work done when you've got a breakfast like this sitting in front of you….