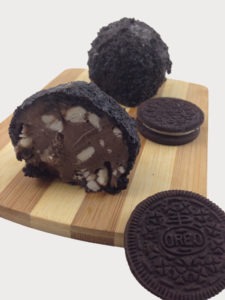 I know that I've made and written about Deep Fried Ice Cream before here on DudeFoods but recently Arctic Zero shipped me seven pints of ice cream — along with a couple boxes of ice cream bars — so I figured I'd try it again with a different flavor.
Out of all ice cream that Arctic Zero sent me I enjoyed their Cookies & Cream flavor the most so I decided to try breading it with crushed up Oreo cookies before deep frying it, because what goes better with cookies and cream ice cream than even more cookies right?
I wasn't sure how well the Oreo cookie filling would work as part of a breading so I went through a package of cookies removing the filling from each cookie. Don't worry though, because I didn't let it go to waste. Instead, I mixed the cookie filling right into the ice cream! Yep, Cookies and Cream ice cream, mixed with Oreo cookie filling breaded in Oreo cookies!
One pint ended up being enough for five pretty decently sized balls of ice cream and after those sat in my freezer for about 30 minutes — mixed with the Oreo filling of course — I dipped each one in an egg wash and then rolled them around in crushed up Oreo cookies before placing them back in the freezer for another ten minutes or so. Then, just to make sure the breading was thick enough, I dipped each ice cream ball in the egg wash once again and rolled them in the crushed up Oreos a second time before putting them back in the freezer.
After 30 minutes my ice cream was finally ready for the deep fryer so I dropped each ball of ice cream in the 375° oil for about ten seconds, snapped a few photos and then started to eat! This is one of those times when I wish I owned a restaurant or a food truck or something just so you guys could actually taste the stuff I make because just saying over and over how great it is doesn't do it any justice. This Oreo Cookie Breaded Deep Fried Ice Cream was good!
As far as the ice cream on its own, each pint from Arctic Zero only contains 150 calories. Yep, 150 calories for an entire pint! Does it taste as good as regular ice cream? No, definitely not, but then again, when a normal pint of ice cream has five times the amount of calories the most you can hope for is that the lower calorie stuff will come close in terms of taste, which Arctic Zero does. Being from Wisconsin I'd choose custard over ice cream any day of the week anyway, but if you're looking for something with WAY fewer calories you might wanna check out Arctic Zero. In the meantime I've got six pints left and a deep fryer that's raring to go!