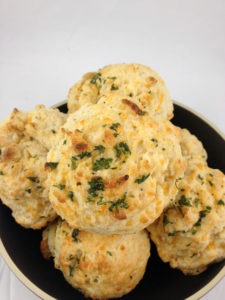 If you ask most people what their favorite food from Red Lobster is I'm willing to bet that most of them won't even name any type of seafood. More likely than not the answer will be "Cheddar Bay Biscuits," which are the delicious little biscuits that Red Lobster drops at each table before each meal in lieu of breadsticks or dinner rolls.
Unfortunately, unlike many chain restaurants Red Lobster doesn't make their food available for sale in grocery stores, so unless you want to make the trek down to one of their restaurants for these delicious biscuits your only other option is to make them yourself at home.
Luckily, the recipe isn't very hard at all to duplicate, and after testing out a few different versions of it that I've found online and making a few tweaks I believe I've come up with what is the definitive Red Lobster Cheddar Bay Biscuit recipe. In fact, all you really need to make these delicious treats are a couple simple ingredients and a few spices.
You'll want to start out by combining 2 cups of pancake mix with a half cup of cold water and 3/4 of a cup of grated sharp Cheddar cheese. Mix those three things up until the dough is nice and firm and it looks like the second picture down below. After that you'll want to heat your oven up to 450° and place balls of the dough onto a baking sheet. Since the dough was so sticky I used an ice cream scoop to shape my biscuits and it worked out great.
While the biscuits are baking you then need to melt a 1/4 cup of butter and add 1/8 of a tablespoon of garlic powder, 1/8 of a tablespoon of onion powder, a 1/4 teaspoon of dried parsley and a grind of pepper to it. After nine minutes in the oven remove your biscuits and brush them with the mixture of butter and spices before putting them back in the oven for two more minutes. After that they should be all done and ready to inhale… I mean eat.
You know how Olive Garden has an endless soup, salad and breadsticks option for lunch? I wish red lobster would do some sort of lunch deal like that with just their Cheddar Bay Biscuits, because I'd have no problem stopping in, paying a few dollars and just making a meal out of a basket of them. Until then though I can at least make my own at home, and now you can too!