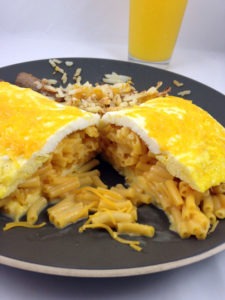 If you've been reading DudeFoods for a while then you've already seen plenty of posts where I've tried to use  macaroni and cheese in non-traditional ways. There was the Macaroni and Grilled Cheese Sandwich, the Macaroni and Cheeseburger and of course the Colby Jack Mac and Cheese Pie with a bacon crust, which to this day is still one of the most popular blog posts I've ever written. This time I'm back with the Macaroni and Cheese Omelette.
Omelettes on their own are great and so is macaroni and cheese, so by all accounts a macaroni and cheese omelette should be even better right? That's what I set out to find the answer to on a recent Saturday morning.
I started off by cooking some Kraft Macaroni & Cheese on my stovetop right alongside a six egg Cheddar cheese omelette. Why use so many eggs you ask? Simple. I wanted to be able to fit as much macaroni and cheese into the omelette as possible. When the macaroni was nice and tender I drained it, added the cheese, butter and milk and then topped half of my omelette with it before folding the other half over and transferring it from the pan to my plate.
The six eggs might have been a bit too much (especially considering that most omelettes consist of two or three eggs), but using twice as many eggs as a typical omlette definitely helped me accomplish my goal of stuffing as much macaroni and cheese into my omelette as possible. When eating an omelette there's nothing worse than having tons of eggs and barely any other ingredients. If I'm eating a ham and cheese omelette for example, I like to be able to get a little bit of ham and cheese in each bite I take.
My macaroni and cheese omelette on the other hand had the perfect macaroni and cheese to egg ratio and turned out awesome. Granted, I was absolutely stuffed after finishing it, but I guess that's a small price to pay for being able to start off your day with a breakfast like this. Do you know what else goes great with a mac and cheese omelette? (aside from the obvious choices of hash browns and breakfast sausage) A beermosa!