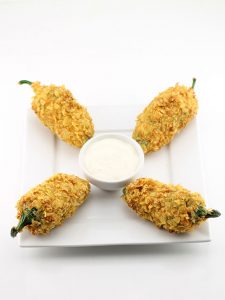 Remember yesterday I wrote about the Kettle Brand Chips Breaded Deep Fried Cheese Curds that I made and mentioned how I had a ton of other ideas that I came up with that would be perfect with the addition of some Kettle Brand Chips?
Well, this one was just too good to pass up, so I decided to make it as well!
Jalapeño poppers are a prime example of a great appetizer that hasn't seen much innovation over the years and honestly, why would you even want to change a thing with them? They're delicious right?Jalapeños, cream cheese, breading… how could you possibly make them any better? By ditching the boring breadcrumbs and breading them in jalapeño-flavored Kettle Brand Chips instead!
I know that a lot of jalapeño popper recipes tell you to just slice the jalapeño straight across the middle essentially leaving you with two separate pieces, but to me that's sort of like eating a burger with no top bun. When I bite into a jalapeño popper I want the pepper to surround the cream cheese entirely. I want that extra bit of pepper crunch when I take a bite.
What I prefer to do with mine is to slice them down the middle and then add a small cut down each side so you're able to spread the pepper open and pack it with filling.
Granted, you could get this same effect by just cutting the end of the pepper with the stem off and packing the cream cheese in that way, but I'm also a big proponent of holding them by the stem when I eat them since the stem is usually the only part of the jalapeño popper that isn't piping hot.
This is probably also one of the contributing factors as to why I always end up burning my mouth on jalapeño poppers that are still way too hot to eat every time I make them, but how are you supposed to wait on taking a bite when you've got these delicious Jalapeño Potato Chip Breaded Jalapeño Poppers sitting right in front of you?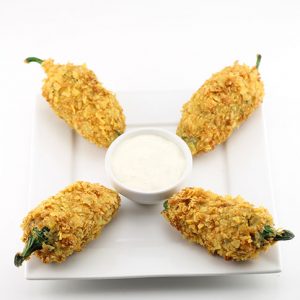 Jalapeño Potato Chip Breaded Jalapeño Poppers Recipe
Nick @ DudeFoods.com
Jalapeño poppers are great on their own, but they've even better when you bread them in jalapeño flavored potato chips and deep fry them!
Ingredients
2

quarts

oil

for frying

1

bag

Kettle Brand Chips

crushed into crumbs

8

jalapeños

8

ounces

cream cheese

4

ounces

Cheddar cheese

shredded

1/2

cup

milk

6

eggs

2

cups

flour

ranch or your preferred dipping sauce
Instructions
Heat oil in deep fryer or heavy skillet to 375°F.

Slice the jalapeños down the middle and then down the sides so they can be spread open to fill.

In a bowl combine cream cheese and Cheddar cheese.

Fill jalapeños with the cheese mixture and set aside.

Combine milk and eggs in a bowl and whisk until smooth.

Coat each jalapeño in flour, dip in egg wash and cover in crushed Kettle Brand Chips. Repeat this process again if necessary.

Fry jalapeño poppers for 90 seconds or until the breading is golden brown.

Drain on paper towels and serve with ranch or your preferred dipping sauce.