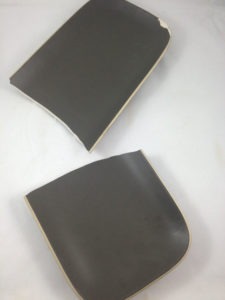 It's a sad day here at DudeFoods headquarters, aka my kitchen, as a dear friend is no longer with us.
Last Saturday morning as I opened my kitchen cabinet to grab a bowl for some cereal my 15″ Wedgewood graphite rectangular serving tray fell to its untimely death.
You might remember the tray from such classic DudeFoods posts as deep fried deviled eggs, the 25 cheese pizza and Elvis cookies. In fact, I've used it in a total of 13 different posts in the past year and a half. Yep, unlucky number 13….
I've already ordered a duplicate serving tray from Bed Bath & Beyond, but who knows if it'll ever be able to replace the original. What if it just doesn't photograph as well? I guess only time will tell.
Also, I'm pretty sure that my wife hasn't noticed that I broke this plate yet, so if we could just keep it hush, hush until the new one arrives I'd appreciate it. Thanks.