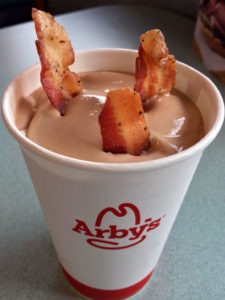 As you probably know, today is Halloween, and while many fast food restaurants are running October 31st-themed promotions that require far too much work — I love you Chipotle, but no way am I dressing up in a costume just to get a discounted burrito — Arby's has one that I can actually get behind. Free bacon! What's even better is that to get your free bacon all you have to do is say "trick or meat" when you place you order!
So what exactly will they add bacon to? Based on my experience when I stopped in to try it out the answer is: Anything you want! Pictured below is my haul from lunch. Curly Fries with bacon? Check! A Jamocha shake with added bacon to satisfy my sweet/salty craving? You know it! After seeing a photo of it in their window I even tried out the new Arby's Cinnamon Apple Crisp…with bacon of course!
Ordering a sandwich that already comes with bacon? Who cares!? "Trick or meat" your way to even MORE bacon like I did with the Ultimate BLT sandwich that I ate!
So, what are you waiting for? Get up off your couch and head over to Arby's where you can take advantage of the best Halloween food-related promotion out there!
Disclosure: As an Arby's Meat Crafter Ambassador, Arby's sent me a gift card to cover my meal, but all opinions are my own.