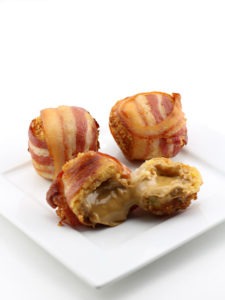 Back in December of 2013 I made Deep Fried Peanut Butter, and although I loved it and it tasted amazing I always felt like it was missing something. Well, it turns out that something was bacon!
To make these I started off the same way I did the first time, by spooning peanut butter into an ice cube tray and putting it in my freezer. Whereas last time I encased the frozen cubes in bread though this time around I coated them in flour, dipped them in an egg wash and then rolled them in panko breadcrumbs. Oh yeah, and then I wrapped each one in two slices of maple bacon!
After frying my peanut butter balls for about a minute in my 375° deep fryer oil I grabbed a knife, sliced one open and watched as warm gooey peanut butter just poured out of it. It's funny, I always forget how great peanut butter and bacon go together until the once a month or so when I combine the two and then every single time I swear that I won't ever go that long without it again. Now if you'll please excuse me I'm just going to watch the video below of me making them over and over on repeat while I drool all over my keyboard….