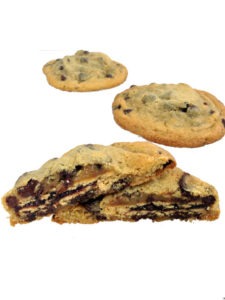 A while back I made some s'mores where I used s'mores Pop-Tarts in place of graham crackers. They were pretty amazing.
Recently, I was back at the grocery store looking at Pop-Tarts and noticed that they offer a chocolate chip variety as well so I thought to myself, "Why not make some chocolate chip cookies that are stuffed with chocolate chip Pop-Tarts?"
Since the middle — and not the edges — are obviously the most delicious part of Pop-Tarts I started off by using a stainless steel cone —  the same one I used to make my wonton cone —  to punch out two circles from each Pop-Tart. A cookie cutter would have worked just as well, but unfortunately I don't own a cookie cutter.
During this little experiment I also discovered that the secret to making great stuffed chocolate chip cookies is not to simply wrap cookie dough around whatever it is that you're putting in the center of the cookie but instead to have a small ball of cookie dough on the bottom and one on the top. As the cookie bakes the dough will then expand around whatever you placed in the center and will form a perfect cookie shape.
If you have a chocolate chip cookie recipe that you prefer then you should definitely use it if you ever make these, but since I was feeling especially lazy this particular day I just used some pre-made Nestlé chocolate chip cookie dough and then baked my cookies according to the directions on the package.
I've mentioned before that I'm not a huge fan of desserts, but I couldn't get enough of these cookies. They turned out really, really delicious. We may never be able to top the awesomeness that is a chocolate chip cookie stuffed with an Oreo, but trust me, these Chocolate Chip Pop-Tart Stuffed Chocolate Chip Cookies are a close second!.