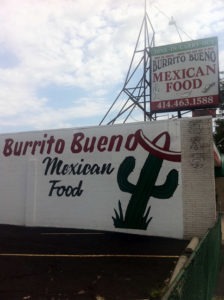 I was reminiscing recently about how much I used to love the all you can eat buffet at Chi Chi's before they filed for bankruptcy and shuttered all of their U.S. locations when I decided to look online to see if any places in Milwaukee still offered a Mexican lunch buffet. As it turns out, there just happens to be a restaurant called Burrito Bueno located a mere four and a half  miles from my work where for $7.25 you can help yourself to as much Mexican food as your heart desires.
Burrito Bueno's lunch buffet lasts until 3:00 each day, but since I don't usually go to lunch until around 2:00 or so, I only caught the last 45 minutes of it, which translated into lots of food that had been sitting around in warming trays for a few hours. I wasn't about to let coagulated nacho cheese and trays full of lukewarm Mexican fare stop me from stuffing myself full of food however, so I grabbed a seat and dug in!
For my first plate of food I decided to try one of their cheese enchiladas, along with something that they called a "flour tortiup" (which looked and tasted exactly like a chicken enchilada). Plate two consisted of a couple barbacoa shredded beef tacos that I assembled myself and topped with lettuce, tomato, cheese and sour cream. For my third plate I decided to try a couple of their pre-made chicken burritos and a piece of fried pork. After that I grabbed a couple more chicken enchi…. I mean "flour tortiups." For my fifth plate I tried one of their beef chimichangas and made another taco, but filled this one with spicy steak and gravy. At this point I was pretty full, but they had some chicken with green sauce that looked pretty good so I made myself one final taco using that and grabbed myself one more chimichanga.
The food at Burrito Bueno wasn't the best Mexican food I've ever had, but again, it's hard to tell if it just tasted that way because I caught the tail end of the lunch buffet. Either way though, $7.25 for a lunch buffet is a pretty decent deal, so I might need to stop in a little earlier some other time and see if the food is a little better.