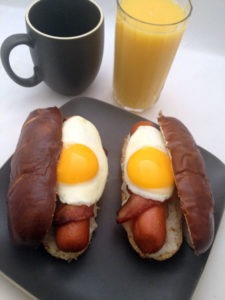 You know how in the movie Billy Madison Adam Sandler draws a blue duck and then tells his teacher he chose the color because he's never seen a blue duck before and honestly, he just wanted to see one? That's how I feel about breakfast hot dogs.
Now, I'm not saying that no one has ever made breakfast hot dogs before, but I've certainly never seen them at any restaurants I've ever been to. Sure, everyone and their mother is topping burgers with eggs these days, but you never see anyone at all doing the same with hot dogs.
I started off with two 1/4 pound hot dogs, wrapped each one with a slice of Nueske's applewood smoked bacon and then cooked them in my oven for 25 minutes at 350°.
After that I took two Pretzilla soft pretzel buns, covered them with country style gravy, added the two bacon wrapped hot dogs and topped each one with a sunny side up egg.
My original plan was to cover the eggs with some of the country gravy as well, but they just looked way too perfect sitting there on top of the hot dogs for me to do that.
As it turned out, the sunny side up eggs are what really completed this meal. The second I picked up the first hot dog and pressed the bun down the egg yolk broke open, turning my breakfast into a gooey yet absolutely delicious mess.
This is one meal that I'll definitely be making again soon. In fact, I already have a couple different breakfast hot dog variations in the works, both of them involving Hollandaise sauce….