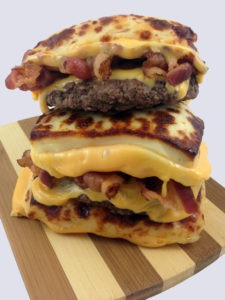 Last month I came up with the idea for a grilled cheese sandwich that was made completely out of cheese. I absolutely loved it, but it's always tough guessing how other people will react to the ridiculous stuff I make.
In this case though it appears that everyone else that saw the sandwich approved of it as well, as stories about it started popping up all over the place on sties like Boing Boing, Reddit, Foodbeast, The Huffington Post, The Daily Beast and more. Culture Magazine and Bon Appétit Magazine even wrote about it. Clearly some sort of follow-up creation was necessary….
My original plan for the sequel was to make a bacon cheeseburger that used two of my 100% cheese grilled cheese sandwiches as the bun — something similar to the Clock Stopper Burger that I wrote about back in 2011. Carr Valley Cheese Company was even nice enough to send me some more of their Bread Cheese to help make my dream a reality. Then, that same day, I received an email from another Wisconsin cheesemaker named named Joe, who works for Brunkow Cheese. Joe offered to send me some of their Bread Cheese, and when I saw that they produced a variety that incorporated smoked bacon into the cheese there was no way I could refuse.
Since I now had Bread Cheese from two separate companies to use as part of my bacon cheeseburger I obviously had only one option — use them both, turn it into a double cheeseburger and add a third grilled cheese sandwich in the middle! A few days later my second box of cheese arrived and I got to work creating the Bread Cheese Bacon Double Cheeseburger.
For the top and bottom grilled cheese sandwiches I used the smoked bacon Bread Cheese — or Brun-uusto as they call it — from Brunkow Cheese. The middle grilled cheese once again consisted of the same Carr Valley Bread Cheese that I used for my original sandwich. Rounding things out were two 1/3 pound ground beef patties — also topped with cheese — and a total of six slices of bacon. I'm not sure exactly how much my burger actually weighed, but after holding it with one hand for a couple minutes as I snapped some pictures my wrist actually started to hurt.
After I was done eating my burger — which was completely amazing in case you were wondering — I was talking to my buddy Curt and he decided to add up the amount of calories in it, which according to his calculations is 4,300. Upon hearing that I immediately came up with the genius idea of heading to the gym to start burning some of them off. I don't know what exactly the burger did to my body, but I was already sweating before I even got there. After 15 minutes on the treadmill I was an absolute mess…. If you ever eat a 4,300 calorie cheeseburger DO NOT go to the gym immediately afterwards. This may be common sense for most of you, but apparently for me it isn't. The burger was still totally worth it though.
Oh yeah, and as if my Bread Cheese Bacon Double Cheeseburger wasn't enough, check out all the cheese I've got left, including jalapeño, garlic and chipotle flavored Bread Cheese from Carr Valley and jalapeño, garlic and pizza style from Brunkow! This pretty much ensures that you can look forward to even more Bread Cheese related posts. Brunkow actually has a booth at Lollapalooza each year where they skewer, sear and serve up their Bread Cheese after drizzling it with condiments, so maybe I can convince them to share a few of their recipes with you guys.