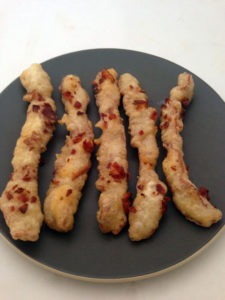 If you're a regular reader of DudeFoods you might find this hard to believe, but out of all the things I've tried deep frying — mashed potatoes, nacho cheese, deviled eggs, lasagna and a ton more — I've still never made deep fried bacon. Pretty crazy huh? Seeing as how I just got an entire gift basket full of it from WisconsinMade.com though I figured that now was as good a time as any to finally make some!
I also decided that when it came to the batter that I was going to use I had to go all out, so I mixed some beer and flour and then threw in some diced pieces of bacon for good measure. Yep, I battered my bacon strips with a beer batter that had even more bacon in it! It was actually the same batter I used when I made my deep fried White Castle sliders.
In the end my deep fried bacon turned out to be one of my favorite things that I've ever used my deep fryer for. When it came to the taste, the crispy bacon matched up absolutely perfectly with the crunchy beer and bacon breading. After trying it I really have no idea why I've never seen this item on the menu at any restaurants. You know, aside from the fact that it's probably one of the most unhealthy things ever….