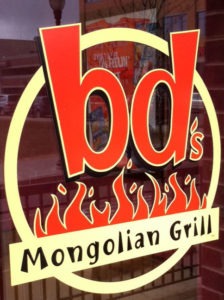 Aside from Chinese buffets and fast food restaurants one of my favorite places to eat lunch during my workday is at bd's Mongolian Grill. If you've never been to a Mongolian barbecue I'll give you a quick rundown of how they work. You start off with an empty bowl and then walk around filling it with various meats and vegetables before bringing it up to a giant iron griddle where your dish is cooked in front of you.
A lot of Mongolian barbecues are all you can eat, but bd's gives you the option of purchasing a single bowl of food for a few dollars less than their all you can eat price. If you know how to fill up your bowl correctly though you can easily pack enough into it to get you completely stuffed to the point that paying for anything other than a single trip up to the grill is almost pointless.
With all the different meat and vegetable options deciding what to fill your bowl with can be quite the daunting task however, and that's why I've come up with a few simple steps to to maximize the amount of food you can fit in your bowl.
The DudeFoods guide to getting the most out of your Mongolian barbecue experience:
Step 1 – Layer the bottom of your bowl with heavy flat meats such as steak and chicken.
Step 2 – Cover the bottom layer with whatever vegetables you want. At this point you might be tempted to add things like noodles to your bowl, but don't do it! They take up way too much space and it's just an overall waste; kind of like filling up on salad at an all you can eat buffet.
Step 3 – Cover the vegetables with even more heavy meats to weigh them down.
Step 4 – Use smaller foods to fill in all the gaps in your bowl. Items like tofu, mushrooms and meatballs are great for this!
Step 5 – Take your bowl over to the giant iron griddle, watch the cooks fry up your delicious creation and then take it back to your table and dig in!