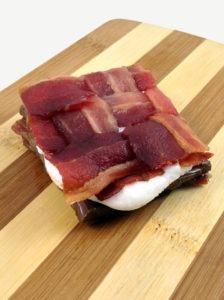 I have no idea why, but I've been on a bit of a s'mores kick lately. Last month I made some s'mores using s'mores Pop-Tarts instead of graham crackers, and a couple days ago I made these Bacon Weave S'mores.
Why bacon you ask? Well, chocolate covered bacon has been a thing for a while now and as you can probably tell from back when I created a Bacon Weave Choco Taco, I'm a huge fan of salty and sweet combinations, so combining little squares of bacon along with Hershey's Chocolate and marshmallows was really a no-brainer for me.
Now, unlike something like the Bacon Weave Taco or even the Bacon Weave Elvis Sandwich, the bacon weaves with these s'mores were super easy to make just because of how small they were. I made each square the exact same size as half of a Hershey's Chocolate bar, which as you can see from the photos ended up being three pieces of bacon by two pieces of bacon. Since I didn't need full slices of bacon for the squares either I was able to create two complete squares from just five pieces of bacon by cutting each one in half first.
Since the chocolate and marshmallow melt so easily that if you make these you'll want to make sure that your bacon weave squares are completely cooked before you add the two final ingredients. After adding the chocolate and marshmallow it was just a quick 30 seconds in the microwave until my Bacon Weave S'mores were ready to eat!
Much like the s'mores that I made using Pop-Tarts I preferred these to traditional s'mores. I've never been a huge graham cracker fan, especially when it comes to s'mores because they always just seem to break apart. It's much, much better to have something like a Pop-Tart or a bacon weave that completely stays together as you're eating.