For the second year in a row now I'm working with the Wisconsin Pork Producers Association to create unique pork-based recipes. In case you've missed any of my previous posts you can click here to check out the different dishes I've come up with so far.
While looking back at the five recipes I've already done for them I noticed one small problem. There wasn't a single recipe that involved bacon. Seeing as how pork belly is my favorite cut of pork this clearly had to change, so I present to you Bacon Weave Breakfast Tacos!
If you're currently following a keto diet these tacos are absolutely perfect for you! I mean sure, you could just use low carb tortillas instead, but where's the fun in that? This recipe is also perfect for you if you just really, really love bacon like I do.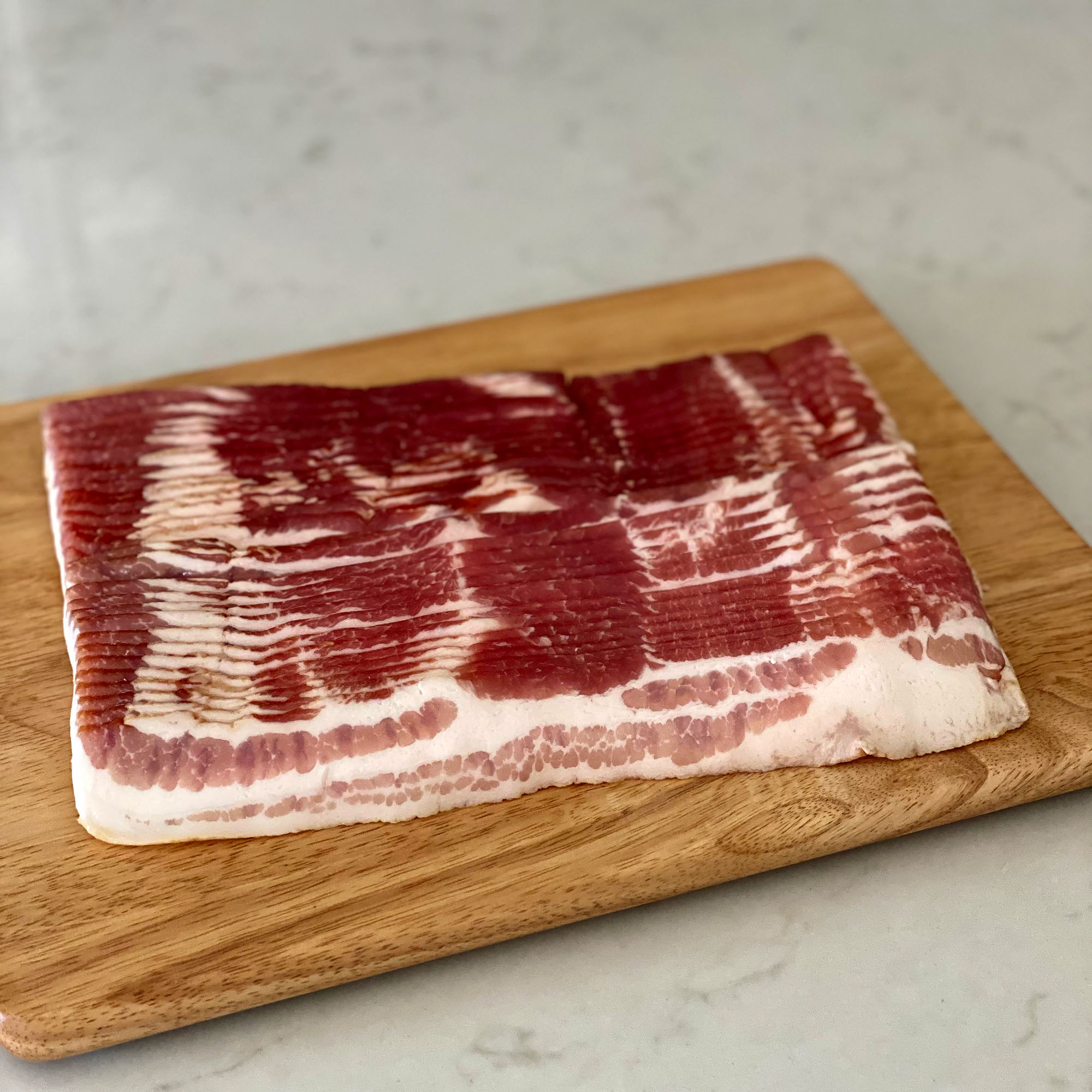 Creating bacon weave taco shells is actually a lot easier than it looks. You're going to start off by laying 8 slices of bacon side by side. Fold back every other bacon strip and lay a slice of bacon perpendicular to the original 8 strips, repeating this step until your entire bacon weave is done, alternating which strips go over and which strips go under the original 8 bacon strips. If this sounds confusing at all just watch the video.
Then, after 15 minutes in the oven at 350° you're going to pat down the bacon weave with paper towels to remove any excess grease, place an upside down bowl over it and trace around the bowl with a knife so you're left with a circular bacon weave.
After that all you need to do is to hang the bacon weave over chopsticks or kabob sticks, balance the sticks across a couple pint glasses and bake the weave for another 5 minutes or until the bacon is crispy.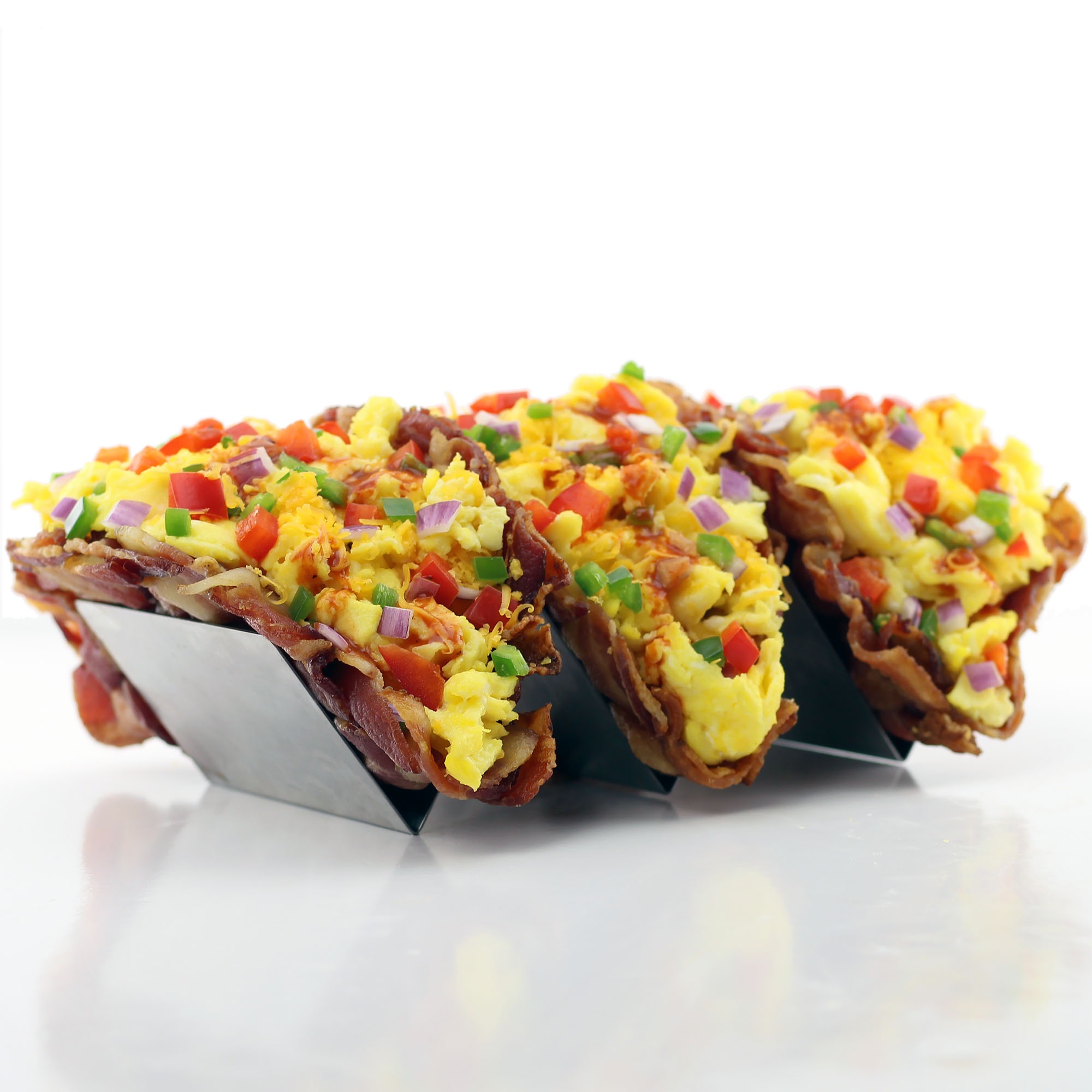 I know that 16 slices of bacon sounds like a lot of bacon, but when you cut your bacon weave into a circle to form the taco shell shape you're probably cutting off at least four slices worth of bacon so technically you're only eating 12 slices of bacon with each taco….
Once my bacon weave taco shells were complete I filled them with scrambled eggs, cheese, diced jalapeño, diced red pepper and diced red onion plus some hot sauce for good measure. It was the best breakfast I've had in as long as I can remember.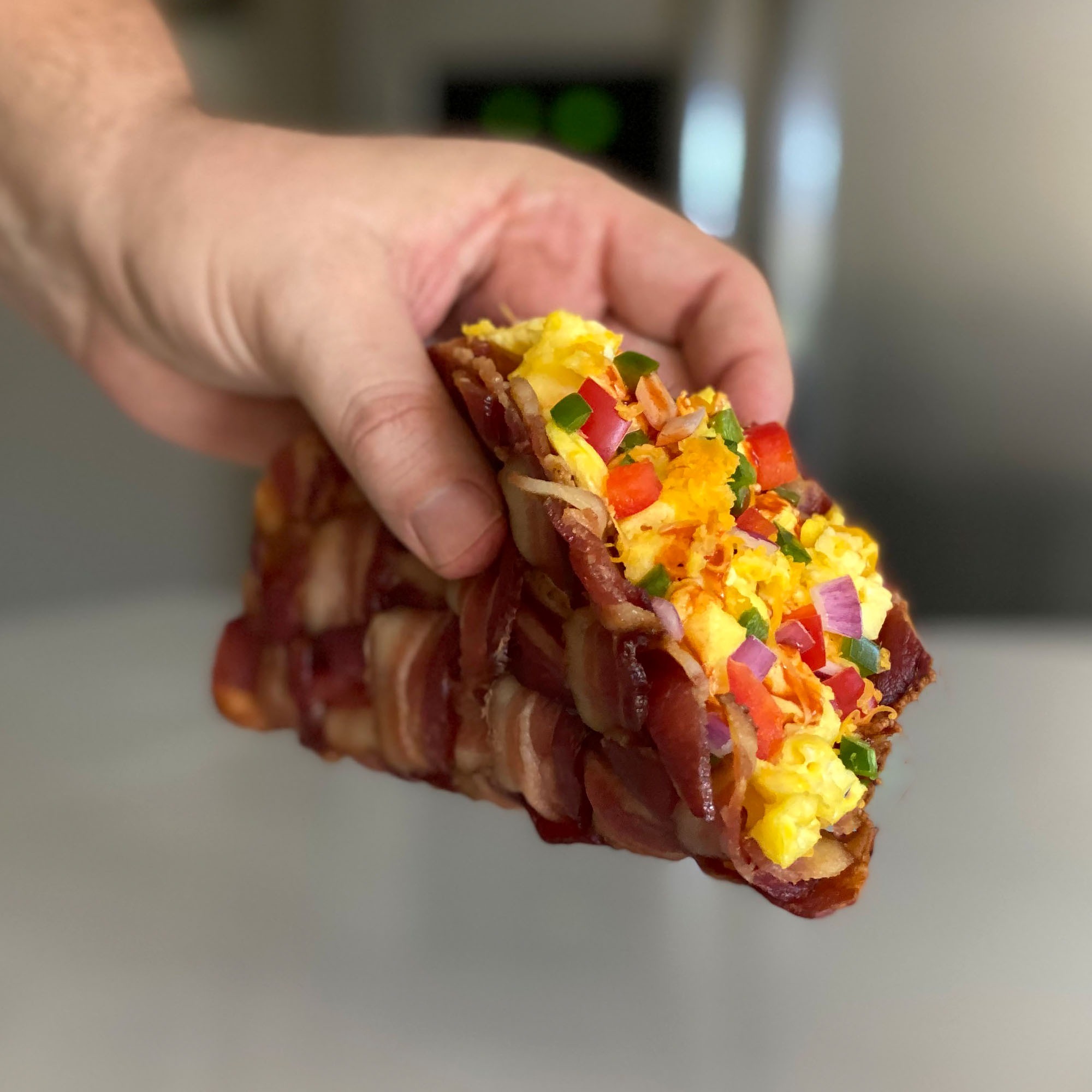 If you're looking for something a bit healthier — since both pork tenderloin and pork sirloin roast meet the criteria for heart-healthy foods according to the American Heart Association — you could always make the Pork Sirloin Corn Dogs that I made back in March or the Beer Battered Pork Tenderloin Fries I made last year. Or, if you're worried about eating healthy maybe just stick to one Bacon Weave Breakfast Taco instead of the three that I ate when I made them….
If you'd like to learn more about pig farming or find the answers to any pork-related question you could possibly have head on over to PorkCares.org.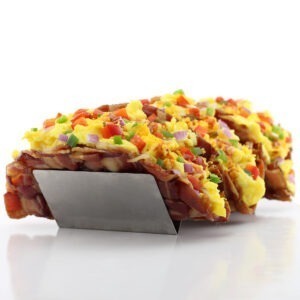 Bacon Weave Breakfast Tacos Recipe
Nick @ DudeFoods.com
You may have had breakfast tacos before, but you've never had them like this! With a bacon weave shell they're perfect for pork lovers or those on a keto diet!
Ingredients
16

slices

bacon

3

eggs

1

tablespoon

milk

1

tablespoon

butter

1/3

cup

Cheddar cheese

shredded

your choice of toppings

I went with diced jalapeño, diced red pepper, diced red onion and hot sauce
Instructions
Line 8 slices of bacon vertically side by side.

Fold back every other bacon strip and lay a slice of bacon perpendicular to the original 8 strips. Repeat this step until your entire bacon weave is done, alternating which strips go over and which strips go under the original 8 bacon strips. If this sounds confusing at all just watch the video.

Bake the bacon weave in your oven for 15 minutes at 350°.

Remove the bacon weave from the oven, pat down with paper towels to remove excess grease, place an upside down bowl over the bacon weave and trace around the bowl with a knife so you're left with a circular bacon weave.

Hang the bacon weave over chopsticks or kabob sticks, balance the sticks across 2 pint glasses and bake for another 5 minutes or until the bacon is crispy.

Whisk together eggs and milk in a bowl.

Melt butter in a skillet over medium heat, add eggs and cook, stirring occasionally, until they reach your desired level of doneness.

Add shredded Cheddar to scrambled eggs and stir to combine.

Fill your bacon weave taco shell with scrambled eggs and your choice of toppings. I went with diced jalapeño, diced red pepper, diced red onion and hot sauce