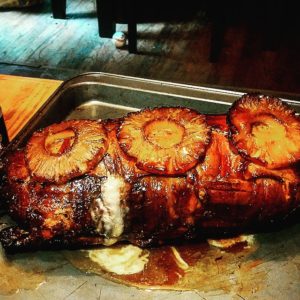 If you follow me on Instagram, Facebook or Twitter I'm sure you've noticed that for the past two weeks I've been running a contest — courtesy of Arby's — where you could win a Meat Craft prize kit that included a stainless steel smoker box, a personalized barbecue set that contains all the essential utensils needed for a successful barbecue, a jumbo BBQ spice set that includes ten different BBQ spice rubs and a bag of bacon infused sea salt!
Well, the contest has sadly come to a close, but I've gotta say, I was blown away by all your entries! After a while I just completely stopped looking at all the amazing photos until after I ate lunch each day, because the second I started scrolling through them in the morning my stomach would just start growling because they made me so hungry.
So, without further ado I'd like to present the winner — the Hawaiian Pulled Pork Fatty, which was made by Joe in Kansas City! To create this monster Joe took a gigantic bacon weave, topped it with ground beef, pulled pork – which was mixed with pineapple – Cheddar and Swiss cheese and then rolled it up and brushed homemade BBQ sauce over the entire thing, before smoking it for 2 1/2 hours. Joe, if I'm ever in Kansas City I'm definitely stopping at your house for dinner!
I'm also keeping a list of all the Milwaukee-area entries and you'll all be entered to attend an Arby's tailgate experience that will be revealed later this summer, so keep an eye out for that! In the meantime, it appears that I need to brush up on my grilling skills, because based on all the crazy stuff you guys are coming up with it appears that I've got some catching up to do!
Disclosure: I've received compensation for this sponsored post, but all opinions are my own. Gettin' paid to eat roast beef and curly fries is the best y'all!